celebrityscraps | August 31, 2008
celebrityscraps | November 8, 2007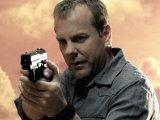 As Jack would say…. DAMNIT!!!!
The WGA (script authors) strike over pay/bonuses has had an effect on multiple shows in production….
They've moved 24 season 7 from airing on the first week in January 2008 to some time in 2009… Argggh!
How dare they tease us with a trailer and then cut it…
check here to see the latest update on other show affected!


http://www.digitalspy.co.uk/ustv/a79461/us-strike-show-status-24-premiere-axed.html
celebrityscraps | November 2, 2007
So I just had to put this up. Last night me and some mates were watching TV when I remembered I'd seen an advert for a trailer for season 7 of 24. So we hot-footed on to YouTube and checked it out…….. WOW!…. i thought they'd just about exhausted every plot direction…. I WAS WRONG…
[youtube=http://www.youtube.com/watch?v=U-2A7bhy9fQ&rel=1]
Check it out peeps…. I can't till January….. DAMNIT!!!!